Intellectual property is a big business, and that's evident in the $15.5 billion comic book industry. I attended New York Comic Con last week and spoke with executives from several large companies managing IP, along with artists, developers, musicians, and Funko resellers galore. I was on the lookout for any lessons learned that can be applied to Web3 IP, where multi-million-dollar NFT projects can be found everywhere.
I've been to various events at the Javits Center over the years, and this was the definitely most crowded I had ever seen it. Check out my previous post about NFT.NYC at the same venue, and there was at least a 10x larger crowd for NYCC. There was no crypto presence beyond VeeFriends, which had a massive booth and class activations every day. 
The venue was teeming with people dressed up as superheroes, villains, robots, monsters, and everything in between. Eli Manning showed up as himself, and that was all he needed to be. Comic Con brings an estimated $100 million to the NYC economy every year, and it's a commercial capitalist paradise where people come to be authentically themselves and consume without judgment. 
As a fan-based event, NYCC is filled with niche fandom communities for every visual IP you can imagine. From established enterprise giants like Marvel and DC to relative newcomers like VeeFriends, executives were highly focused on fostering relationships with these fans and building their respective communities.
That said, here are five trends we saw at New York Comic Con:
1. Anything Is Possible with Web3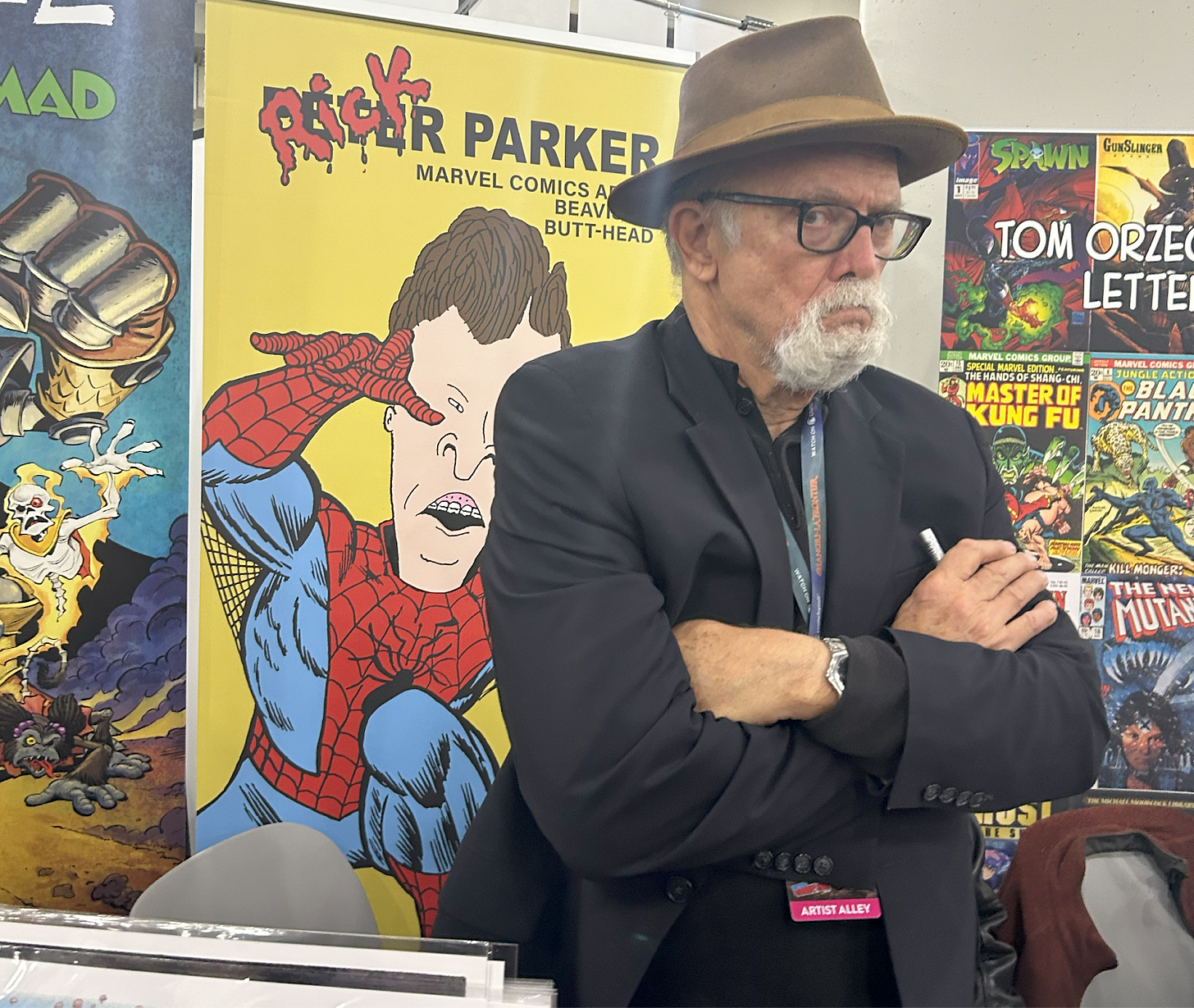 Rick Parker standing among his comics at NYCC. Photograph by Lena Grundhoefer
ComicCon is like Halloween for adults (although some do bring their kids)--the entire block is filled with creative costumes, with people going all out to create a whole vibe. Cosplay was a $5 billion dollar market in 2020 expected to reach $23 billion by 2030, and there are plenty of influencers who built followings on visual platforms like TikTok, Twitch, and Instagram with cosplay.
But the success of cosplay holds a valuable life lesson that Web3 can learn from. Marvel artist Rick Parker said these powerful words of wisdom best when asked about how to be successful in this business as a creator, "You can become anything you want if you put your mind to it."
He's not wrong–it's easy to psych yourself out and develop imposter syndrome, especially when comparing yourself to already successful projects. It takes a lot of work to launch an NFT or token, but success is possible. You just have to start working at it, and every step you take will be one step closer to your goals.
2. Revive Old IP for The Sake of Nostalgia
Spongebob pencil drawing cosplay. Photograph by Lena Grundhoefer
The Marvel team asked a question during one of their panels, "We can't revisit the past but what can we make that's new?" It's an interesting question, because Disney, for example, earned over $5 billion in the past decade off recycled IP. It does this because the characters are already established with audiences, making a project more likely to be a success.
But what happens when your IP loses its shine is a topic I spoke to Neopets CEO, Dominic Law about. If you're unfamiliar, Neopets was one of the original online collectibles and Flash-based social games, and its user base over time grew up into adulthood. I grew up playing Neopets and for me in particular, it lives rent-free in my brain. They're now focused on satiating the nostalgia of its older users while also attracting a younger generation.
They aren't the only ones either–Tamagotchi and other childhood favorites were in attendance looking to engage a new generation. Other legacy IP brands are breaking into Web3 though. Pokemon is partnering with Magic Eden to release 250 phygital collectibles at a time as NFT's.
It isn't easy to resuscitate a stale brand, but it's not starting at zero. Today's Neopets players have over a decade invested in the community, and they stick around because of the relationships they built with each other while playing the games. Much of the groundwork is already laid, and it's busily working to clean up its technical debt while executing growth marketing initiatives to be more accessible in the modern age. I'm bullish on the world they're building around robust character arcs, and quite honestly, more Web3 IP brands need to be taking notes.
3. Comic Con Is Vital to Attend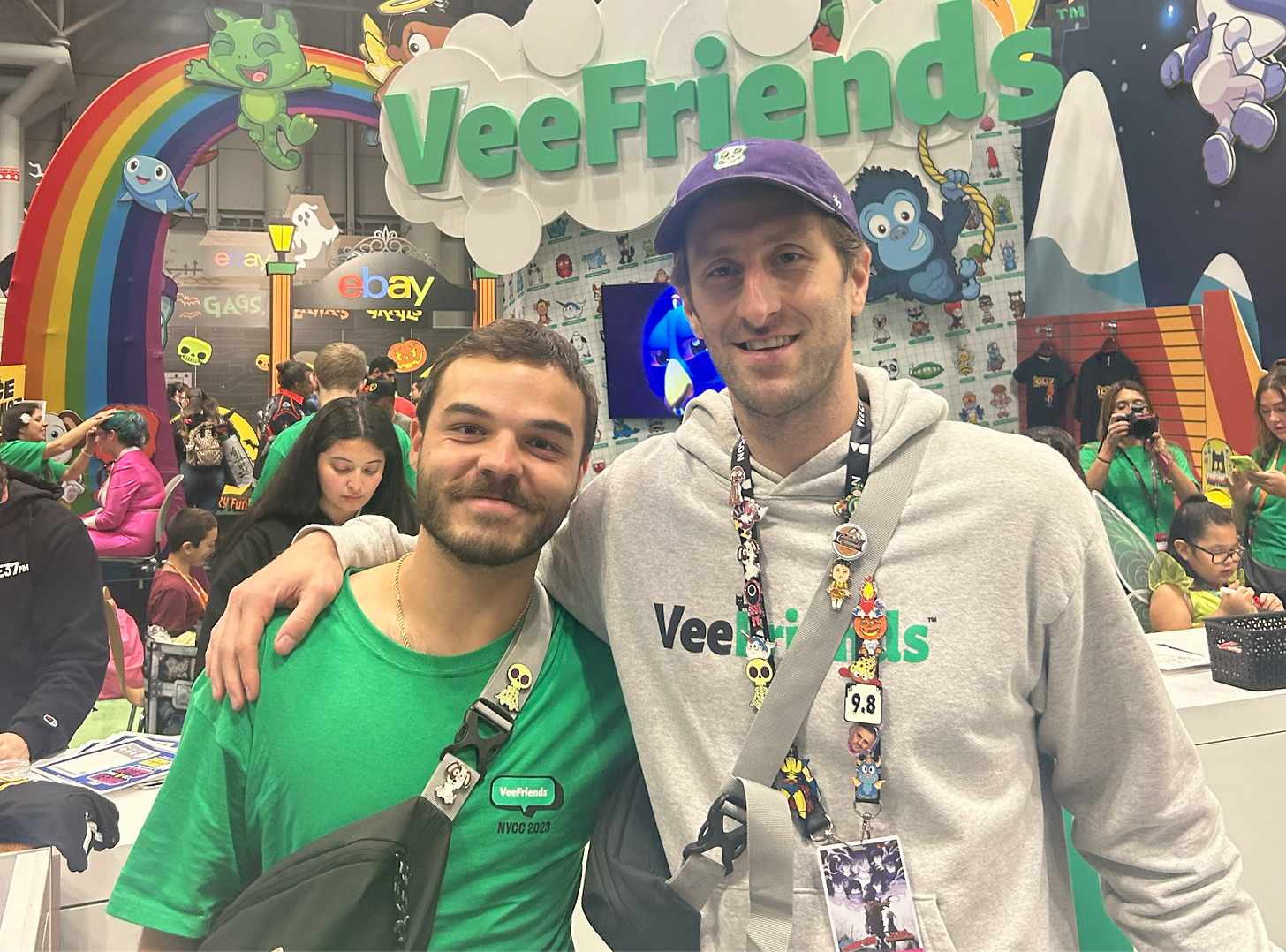 VeeFriends staff and booth. Photograph by Lena Grundhoefer
Web3 has a lot to learn from Comic Con, and I'm disappointed there wasn't a stronger presence there. The most successful brands focus on driving fandoms with well-written narratives, rich character development, and engaging gameplay. This is in stark contrast to your average cash grab NFT PFP, which typically amounts to 10,000 carbon copies of the exact same image with no personality nor backstory to draw in fans.
We did, however, get to meet Andy Krainak, the President of VeeFriends. IP is important to Krainak, and they were at Comic Con to get a better understanding of the landscape while forging new partnerships for the future. 
While it's great to earn seven or eight figures with an NFT collection, the end customer's connection to an NFT is a lot more surface-level and shallow than the connections we have with our favorite superheroes. 
Peter Parker, for example, is a college student getting his degree in science while working as a freelance photojournalist and navigating the complexities of relationships while keeping the streets of NYC safe. Pudgy Penguin #1029, on the other hand, has a bucket hat and sunglasses. But what attributes give Pudgy penguins a unique personality? People generally crave a personality they can relate to.
VeeFriends hopes to find a way to provide a richer experience to connect storytelling and virtual worlds to truly make their collections collectible. I look forward to seeing what's in store for them next.
4. Provide Engagement Opportunities With Your Community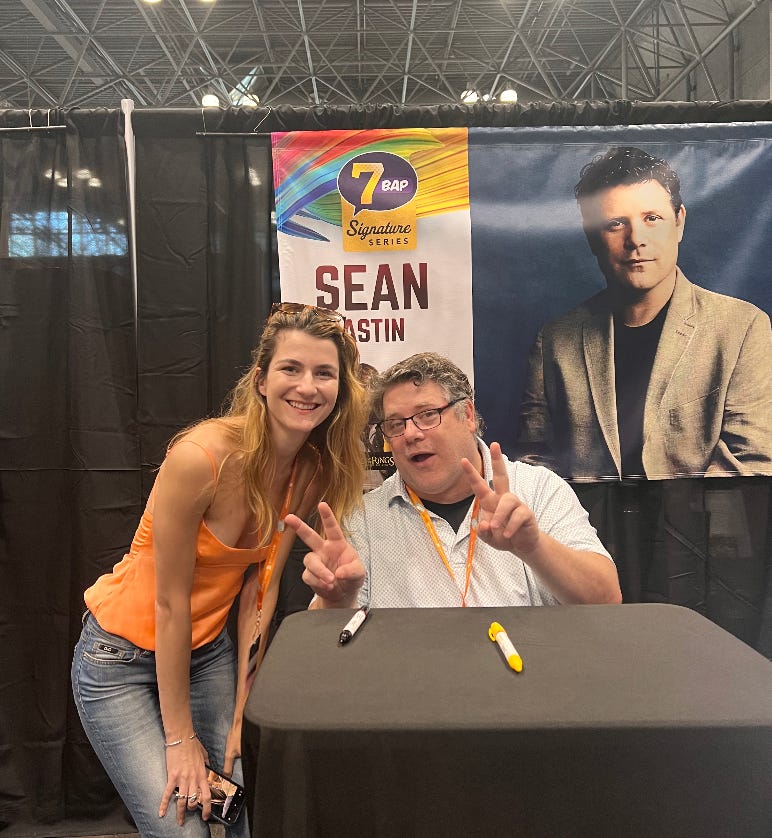 Posing with the legend himself, Sean Astin. Photograph by Lena Grundhoefer
At Comic Con, the social experience includes lightsaber contests, drinking absinthe tea in artists alley, and meeting the real people behind your favorite characters. Some highlights included Jim Cummings (the voice of Tigger and Winnie the Pooh), Paul Timmins (the inspiration behind Peter Griffin), Sean Astin (Sam from Lord & The Rings), and more. Everyone was there to engage directly with their communities.
I also caught Kid Cudi partnering with both Star Trek and Fortnite. He also had a panel on Saturday. Like my prediction on Small Social, these 1:1 engagements are designed to cross-promote the communities of both franchises with Cudi's audience. Breaking into new channels is key to the success of any project, and we're seeing that as companies continue spreading their IP across new frontiers.
As Aron Levitz, the President of Webtoon Studios put it, everything they do is for their community. Webtoon and Wattpad are highly focused on creators and their stories, and they go above and beyond in representing them when presenting their IP to platforms like Netflix and Hulu for series adaptations. Both Webtoon and Wattpad help small and independent creators flourish while also supporting major partnerships like Archie Comics and Ubisoft.
Their business development team works in partnership with creators to help them from ground zero to negotiating TV, game, and merchandise rights when they reach critical mass. Platforms like these are important, and Web3 creators shouldn't isolate themselves on NFT marketplaces like OpenSea when there are communities to be reached all over the internet.
5. Physical Goods Still Matter in a Digital World
Wall of Funko Pop Vinyls. Photograph by Lena Grundhoefer
As I walked through Artists Alley and saw all the physical posters, paintings, and comics for sale, I marveled at how popular physical art still is a year after MidJourney and Stable Diffusion gave everyone the power to create digital art. Funko's Pop toys could be found everywhere, and teenager Funkohunter718 built a real business reselling them with his dad on social media.
It's clear that physical collectibles are still important, even with the widespread availability of digital goods. Pudgy Penguins proved this when it sold 20,000 physical toys within two days of launch, earning the project over $500,000 in a short time.
Computers shifted everything though, and the most successful IP is being sold in both digital and physical form. Web3 projects that crossover and provide these phygital goods have a proven track record already, and it's only going to continue in importance moving forward.
Closing Thoughts
New York Comic Con is a busy event that was filled to the brim with fandoms from all walks of life. Although the reception was absolutely terrible, it is a nerd's paradise, with lines for autographs and walls of art, books, toys, and games everywhere you look. We met countless talented artists who worked for major studios and had some fascinating conversations about the future of technology, entertainment, and IP.
Veefriends was the only Web3-native property in attendance, and that's a shame because Web3 can learn a lot from Comic Con. Batman, Pokemon, and Lord of the Rings have compelling stories with memorable characters that make us feel real emotions, and that's what ultimately built their fandom and led to them generating sustainable income. 
It made me think a lot about the actual narratives and stories (or lack thereof) BAYC/MAYC and other popular projects have built around their unique characters. Beyond utility and "price go up", we need better characters we resonate with, better holistic storytelling and better user subgroups, so every person feels like they can relate to a piece of the pie.

-------------------------
Lena Grundhoefer is the Founder of ZEITG3IST, a globally recognized digital marketing and strategy collective. Through future-proof marketing solutions for the brands of tomorrow, we illuminate stories that define our era, championing a world where the fusion of entertainment, Web3 and empowerment becomes our essence of being.