Earlier this year we shipped the first iteration of what a product born within a community could look like. We tried some things, we learned some lessons and iterated based on community feedback.
Shortly after launch it became evident that in order to really build for community, we didn't just need a new feature or an update, we needed a full blown upgrade—so here we are planting a new flag on fresh digital soil.
At its core, our new community platform is a full blown social network. One that is supercharged with the power of web3.
Let's do a quick overview of all the new bells and whistles.
New navigation
The new primary navigation is your classic speed dial to all the places you need to go. On desktop this is on the left —on mobile it will appear as a pill-shaped floating navbar at the bottom of the page.
On the right you will notice a new element—this is the Dynamic Panel. The right hand panel's form and function evolves throughout the site, adding new functionality or additional navigation based on the context.
Screens come in varied shapes and sizes and the Dynamic Panel adjusts accordingly. It may be a fixed element, or appear as a tab drawer that can be opened and closed when needed. On mobile, this panel can be accessed via the 5th item in the floating navbar.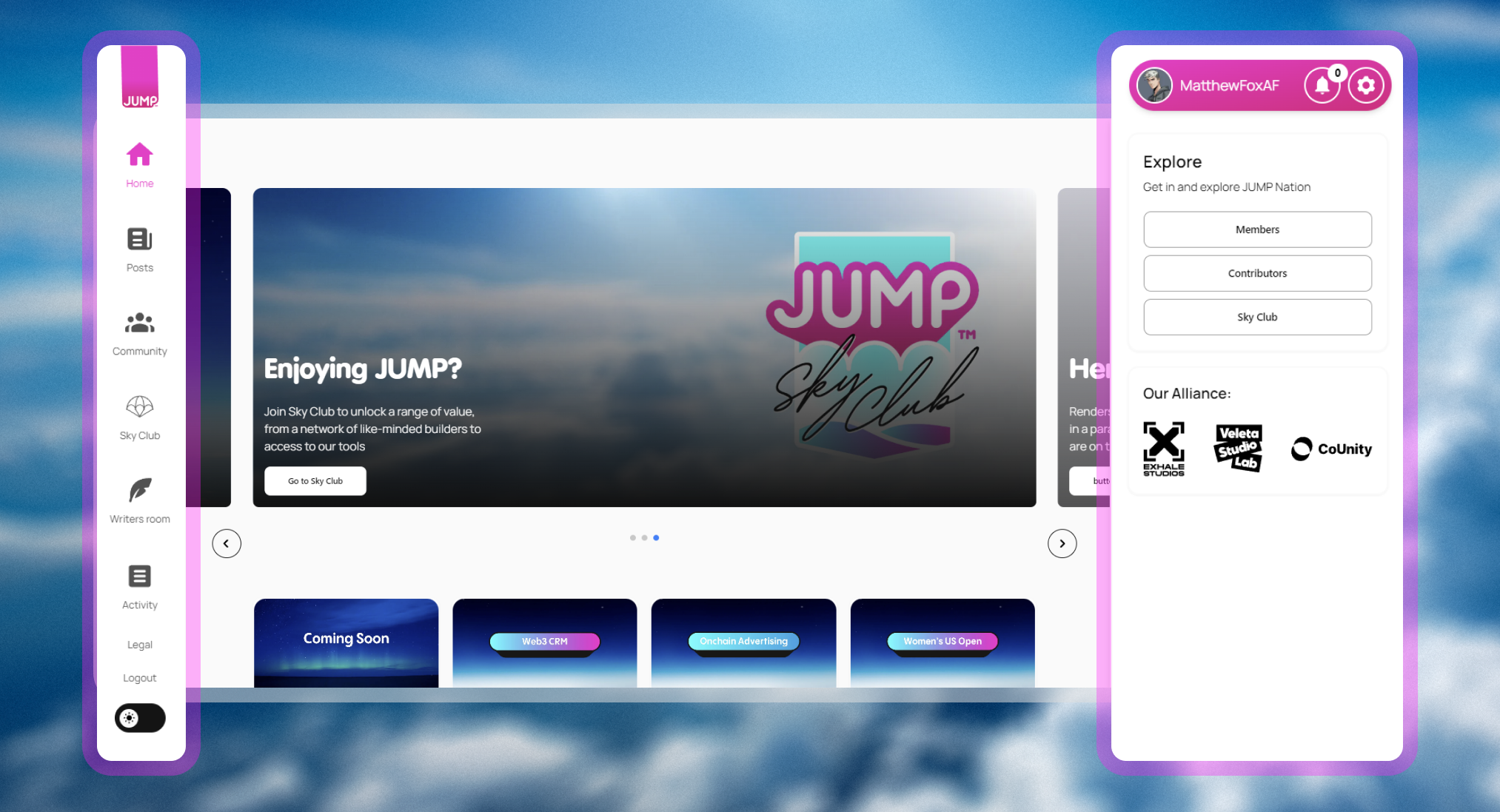 More social features and personalization
Our journey towards a more social and personalized platform begins with comments, notifications, and bookmarks.
Comments are post-specific and accessible to all members who create a profile and claim their Jumper ID, so go ahead and set up an account and join the conversation!
These comments are channeled into a global activity feed, ensuring you stay updated with personalized notifications when others interact with your content.
Bookmarks in their current form are a simple tool to let you curate and easily access the content that matters most to you. We are considering ways to further embed this curation into personalization and recommendations, aiming to help you discover even more relevant content.
If you're reading this, drop a comment and share your thoughts on the new platform :)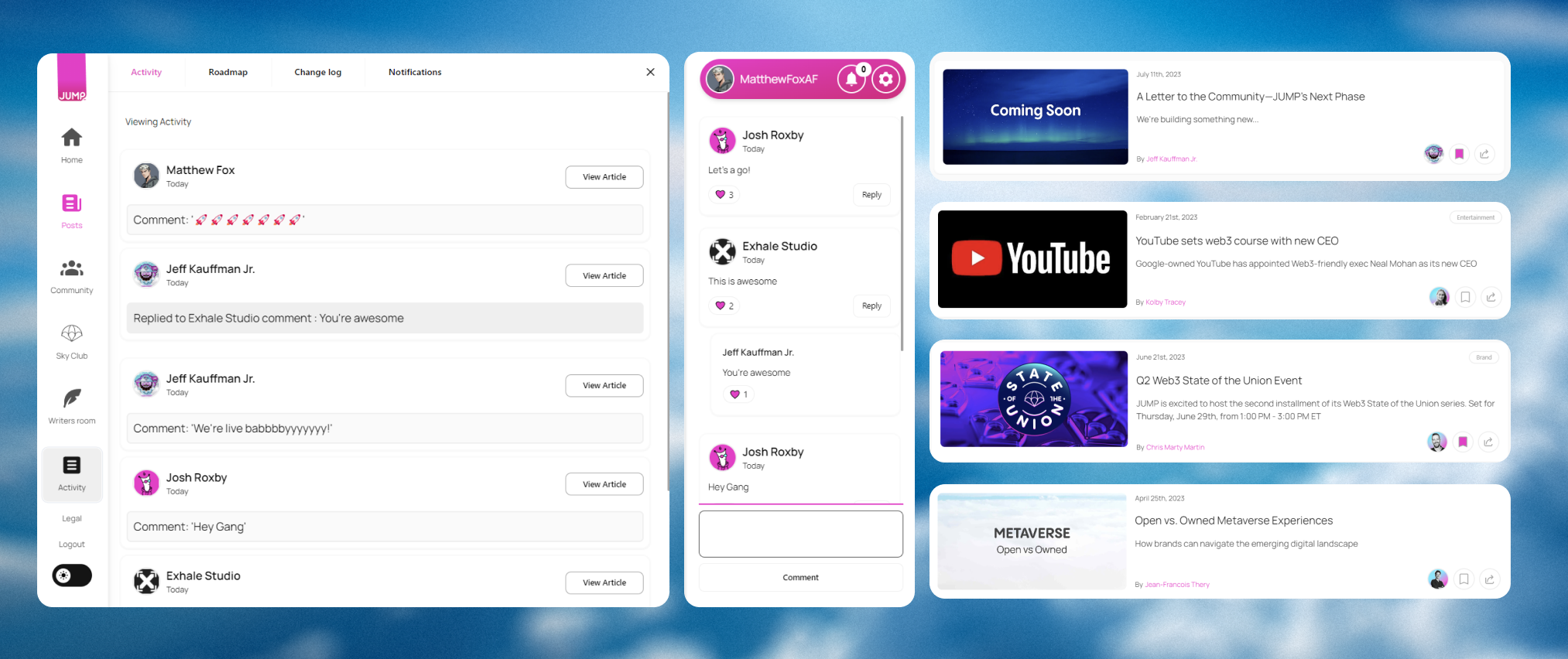 Writers Room
One of our most anticipated features in the new build is the debut of Writers Room. This tool is open to all Sky Club members, empowering them to share and broadcast their thoughts, updates, and moments with the broader community.

Community members can create and collaborate on posts within Writers Room before publishing. Everyone who publishes a post will attain the status of a contributor on the platform. We're committed to refining tools and experiences to elevate the contributor journey in the future.
For a community to thrive, it is important that everyone can share their ideas and updates. As a Sky Club member, contributing to JUMP can come to life in a variety of ways. Writers Room is your toolkit to share your contributions.
Looking forward to seeing what you create!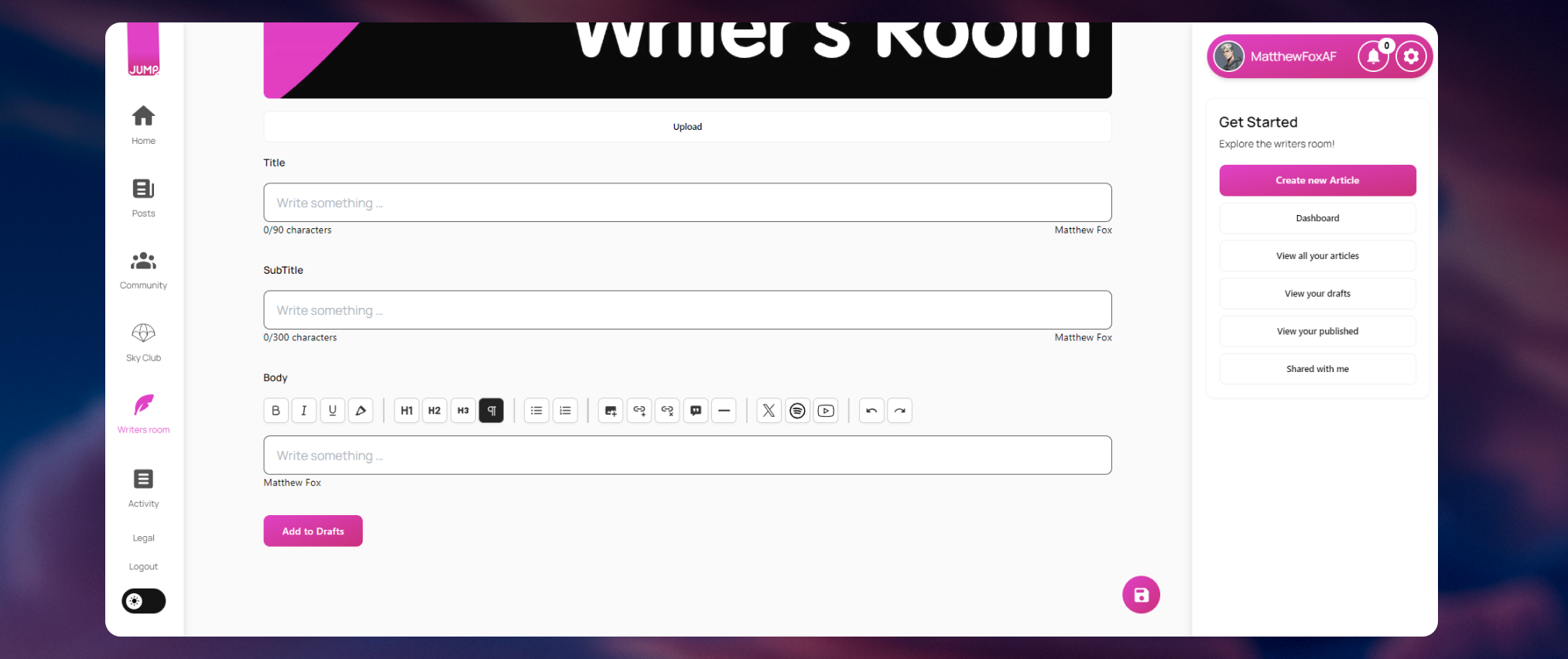 Sky Club and community controlled growth
JUMP began for many with an application, a gateway that fostered a diverse and curated community in a unique internet niche. We're now democratizing this process, handing over the reins to the community.
New applications will populate in the Sky Club area of the website. This area is accessible to all Sky Club members when you're connected with the wallet that holders your Sky Club NFT.
Current Sky Club members can review the applications and co-sign on applicants they think would be a good fit for our community.
Once five members have co-signed on a new applicant, the applicant will automatically be accepted and added to the allowlist to mint a Sky Club NFT and join the community.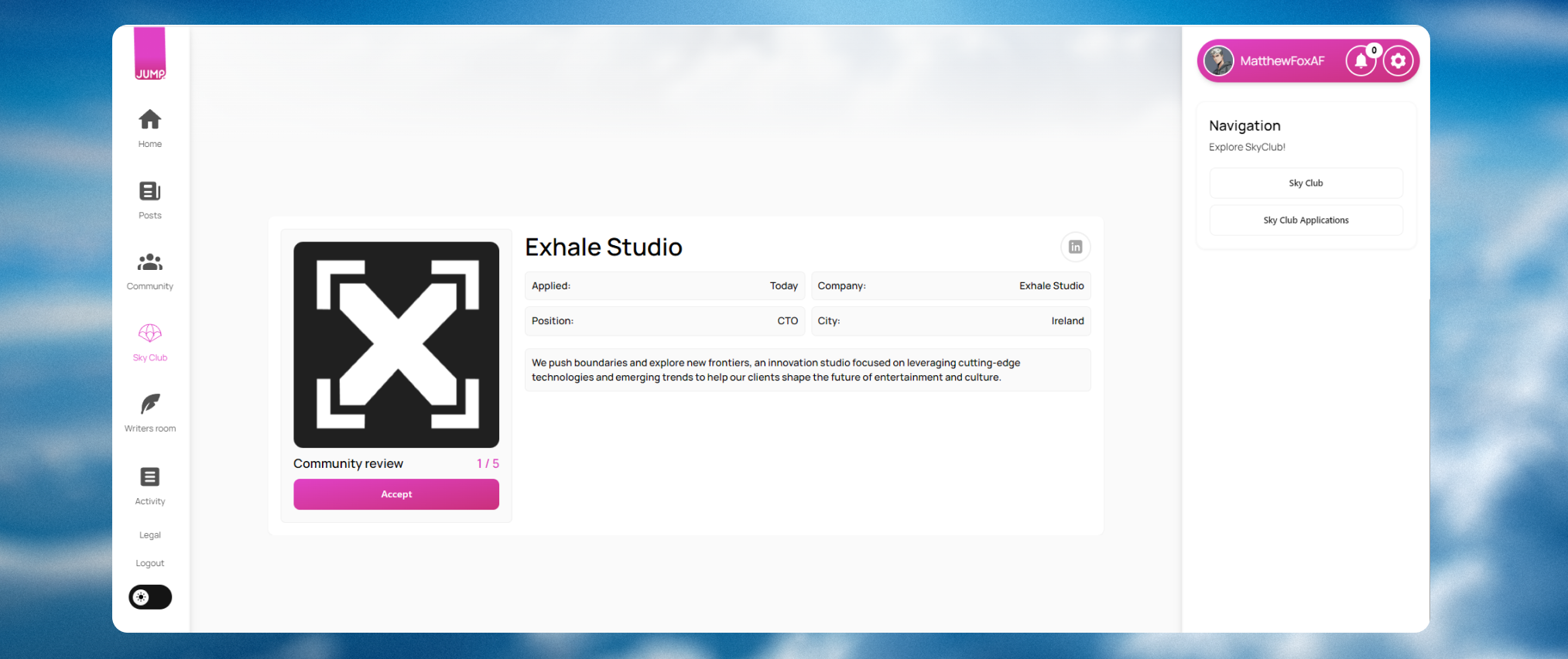 Light mode / dark mode
Secretly (or not so secretly now I suppose) this little upgrade is one of my personal favorites. If you are anything like me, the first thing you are looking for when you land on a website is the dark mode button.. and now we have one!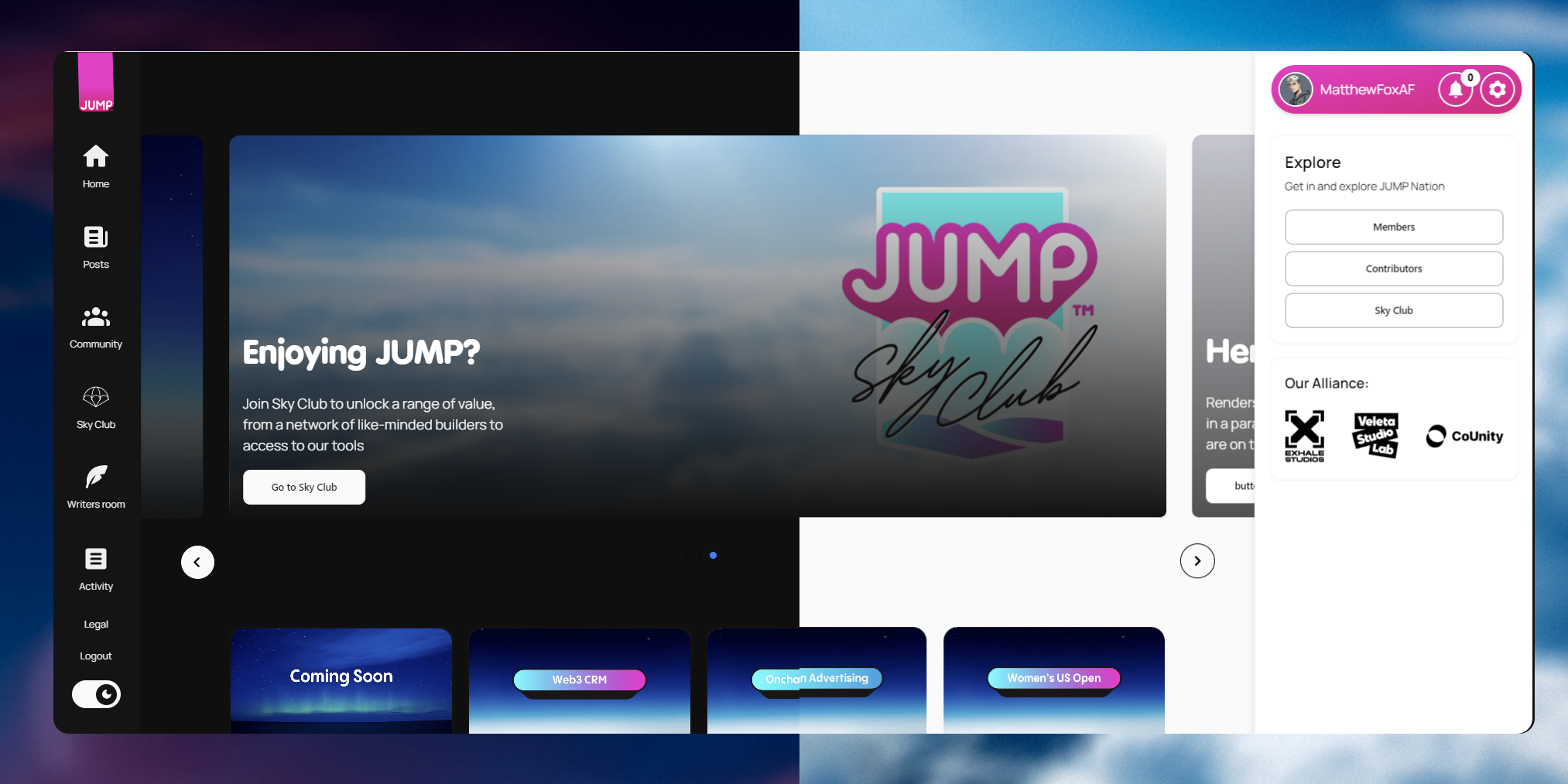 Try it out for yourself! (The toggle is in the bottom left on desktop)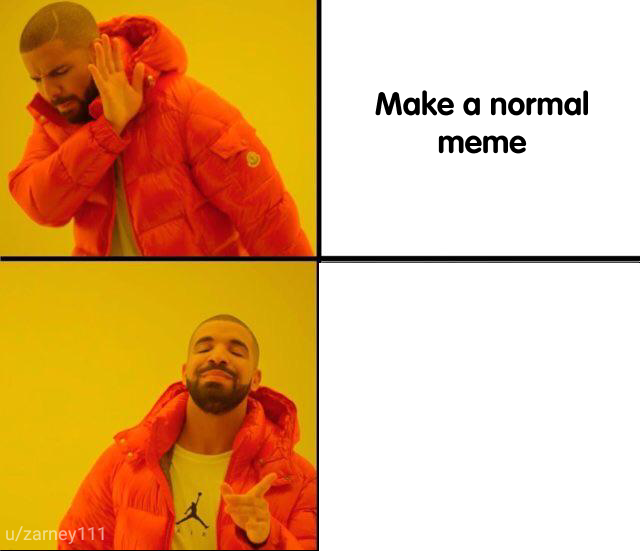 That's a wrap for now and I look forward to what the future holds for our shared corner of the internet.
Change is the only constant and evolution is an iterative process. Any and all feedback is always welcomed. Together we can shape this platform to be a home for the JUMP Community.